In Memory of
Gregg White
June 7, 1964 - September 30, 2012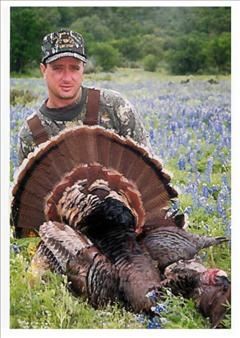 Paul Gregory (Gregg) White passed away on September 30, 2012 in Katy, TX.
He was born on June 7, 1964 in Louisville, Kentucky to Ethel and George White.
Gregg was an avid outdoors person all of his life. His personal joy was fishing and
hunting with his friends, family and business acquaintances, often times with their
young children. After a trip he was always most proud of his outdoor cooking and
sharing with others. Gregg was a General Manager of Supreme Electrical Service
of Houston, TX. His enthusiasm for life was contagious. He lived life to the fullest,
sharing that life with Kimberly and their beloved dogs, Bullet and BeBe.

Til we meet again...
We love you,
Keith, Sheri, Madelyn & Kole

Thanks for stopping by!!

TALL PINES EXOTICS offers both exotic hunts and hog hunts. No matter what you decide to hunt when you visit us, you are not going to be disappointed! At TALL PINES we appreciate our guests and wish to make your hunting experience as personal and exciting as possible. We are there for YOU so all we want is for you to show up and let us create your best hunting experience yet!

TALL PINES is located in Centerville, Texas, the halfway point between Houston and Dallas.
Our weekend hog hunts require a 2 hog minimum. Our weekend hours are from 7:00 PM Friday through 12:00 PM Sunday.

When you visit TALL PINES, you will enjoy the comfort and convenience of a complete "bed and breakfast" type setting. Our lodging is very comfortable, and includes all necessities such as bedding, linens, bath necessities/toiletries, etc. In addition our facility is equipped with satellite television and wireless internet service.

The rates also include a Texas style country breakfast and dinner.