"Kent" March 24, 2015

"My Dad, James, Derek, Todd, and I would like to let you know that our hog hunt this weekend was absolutely perfect. The hospitality, the cooking, Larry's time and sweat helping us, all and all couldn't ask for a better hog hunt. You all are amazing people and we will be seeing you all next year! Thanks again from "us Missouri folk"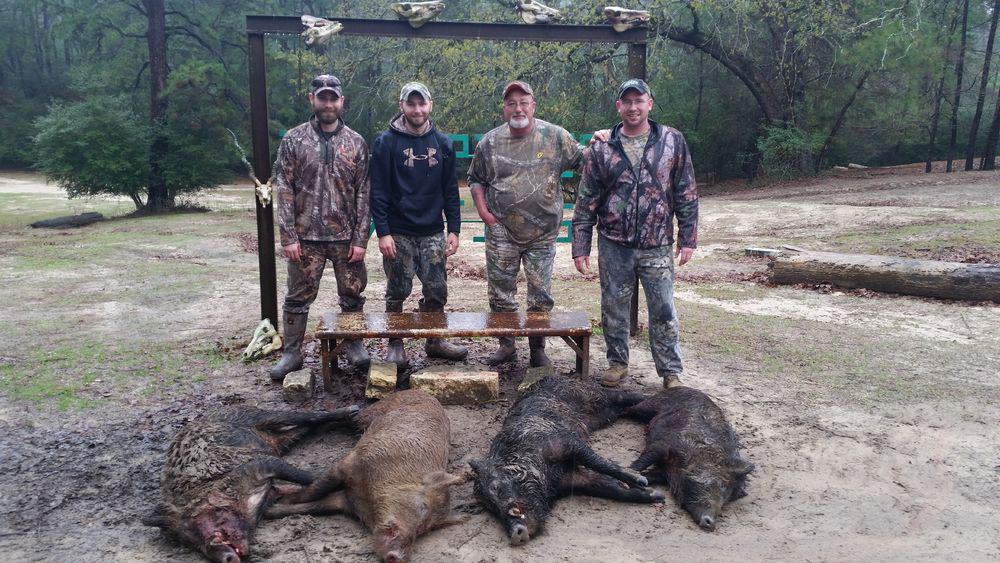 "Greg" February 24, 2015

"Hello Larry, Keith, Sheri, Brian & Kole
Just thought I would let you know my cousin Bruce is heading back to North Dakota with the three hogs we shot including the 240 pounder he took. When I was looking for a place to hunt Hogs I contacted the Langley Ranch and they were full and recommended Tall Pines and I am thankful for that. What an experience you provided us, you made us feel like we were part of the family. Everything about your Ranch was outstanding, from the accommodations to the hunt to the food. Let me say something about the food, the food was some of the best home cooking I have ever had and probably will ever have. The way you guys skinned and quartered our hogs, I don't think the butcher could have done any better. The meat was as clean as if you just picked it up at the butcher shop. We have already booked a hunt for next year and can hardly wait.
Thanks again"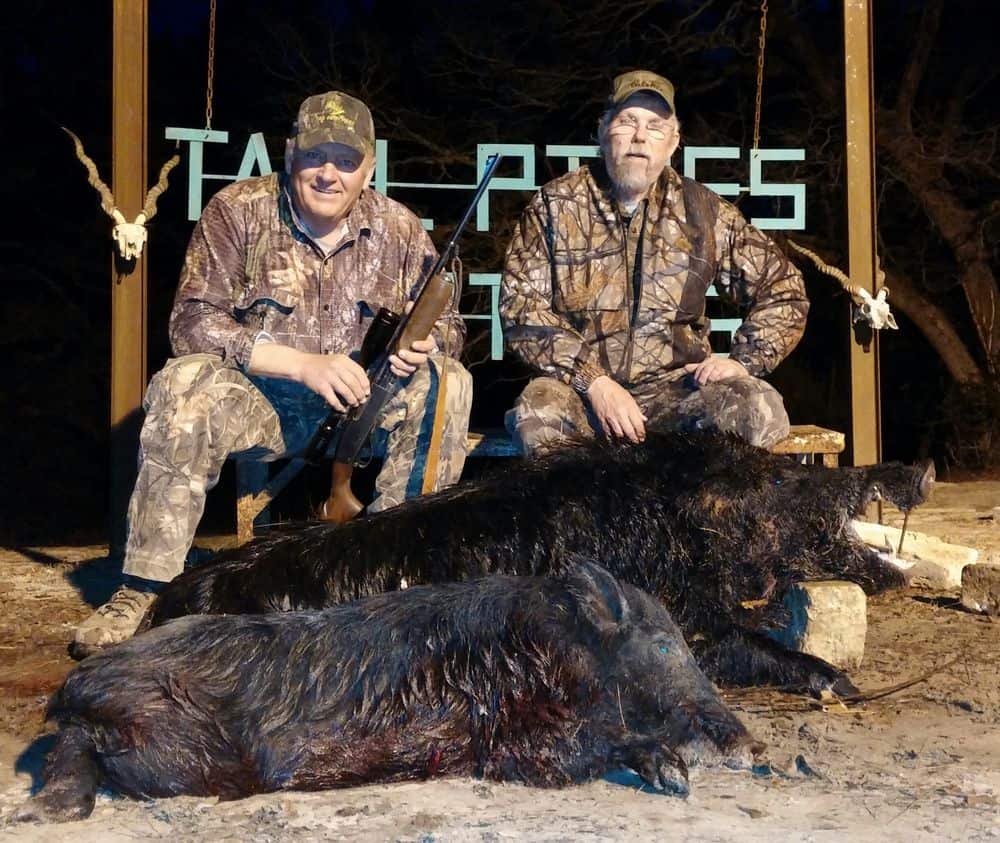 "Gregg" April 28, 2014

"Hey, Keith.

Alex, David, Jacob, and I were there last weekend and I sent an email ot the ranch. We had a great time and I want to thank you all for working that hard to giive us the hunt. I also want to tell you the processor I took the meat to (193 pounds, and the best guy in town), said that was the cleanest dressing job he had ever seen.

Thank you again. See you soon."



"Butch" July 15, 2013
"Hi Yvonne,

I wanted to take a minute to let you know that we enjoyed hunting at Tall Pines very much. Thank you and the "family team" of professionals."



"Steve, Sean, Mike and Leon" February 14, 2011
"Keith and Larry

Guys just wanted to send you the pictures and say THANKS again for a great first time hog hunt in Texas. You guys made us all feel at home and have a great place to hunt hogs. Hope to see ya guys next year for another great hunt. The guys from Sterling Colorado.

Thanks again"




"Ken O." February 17, 2009
"Keith & Larry,

We wanted to thank you for an excellent hunt. When we decided to do this we knew we wanted to book a guide, with several of our party coming in from out of state. We wanted the best possible percentage for all in our party. You surpassed our expectations. There was only 7 of us yet we were able to take 8 hogs during a 12 hour period, total weight 934 lbs. Everyone harvested!!!!!!!

The only thing that outdid the hunting was the hospitality that was provided. Some guides typically have no interaction with clients. Your team went above and beyond to ensure that we were happy with everything. All meals were incredibly prepared. Not only did your staff prepare them all but also shared them all with us. Good times and good humor were had by all.

Thanks and hope to see you again real soon."




"Craig B." March 1, 2010
"Hey Guys,

Just wanted to send a special Thank You to all of the tall pines family for making Joshua's 1st hunting experience such a great one.He enjoyed hunting more than he ever thought he would,and he is so proud of his hog. As for me getting to hunt with one of my sons has filled an empty spot in my life, I've waited a long time for that wonderful experience.The hunting was worth every penny, but hearing my son explain how amazed he was that a family (that did not know us)could welcome us into their home an treat us with so much hospitality was priceless. Thanks again for the great hunting memory, and a sincere thank you for showing my son the true meaning of "good people"."



"Keith M." March 21, 2010
" "Tall pines family"

We had a great time at your place,and another great hunting experience with my father.We harvested some nice hogs and the hospitality and food were top notch and very much appriciated.I cant wait to bring my wife and kids to your home to experience the same memories.Thanks again for everything and hope to be hunting with you real soon..

The Mayrose Family (Dallas)"



"Mark D." February 15, 2010
"I told Larry I send some pics. The past weekend completely exceeded expectations. The whole trip was amazing. Everyone at Tall Pines Exotics was nothing short of amazing.

Thanks and look forward to future hunts,"










"JC" January 2, 2017

"I just wanted to thank y'all very much for the last minute hog hunt! I had a blast. Y'all are very welcoming and incredibly nice. Defintly exceeded my expectations next time I'd like to stay for a couple nights. For anyone questioning trying these guys out they will defintly get you a hog and make sure you have a good time!"
"S.John" November 15, 2016

"Between each person in our hunting group (three to four people) we've collectively hunted at Tall Pines Exotics over five times now. Each time has been truly enjoyable and gets better each time. For a hunting ranch the accommodations are very good. The Ranch owners are some of the most hospitable folks we've met. They take care of you, feed you well (btw, the food is down-home good) and ensure you have a very good overall experience. We even get compliments at our processor on how clean the skinning and quartering is; you have to see how well they do it – heck they could be surgeons. Collectively our party has hunted Feral Hog, Catalina Sheep, Jacob's Four-horned Ram and Aoudad. Our group is very happy with our experience at this ranch, not only with the hunting, but the whole ranch team. By the way, they even have a very good Taxidermist referral. All-in-all a great ranch with great people and convenient features. Looking forward to going back soon."
"Steffen & Simon Lofnes" May 14, 2014

"Hi Larry!
I just wanted to thank y`all for a fantastic hog hunting experience. The lodging, the food and not at least the hog hunt is something we will never forget. We really hope to come back one day. We have mounted the biggest hog head and look forward having it on the wall back home in Norway.
All the best!
Yours sincerely
(The Norwegians)"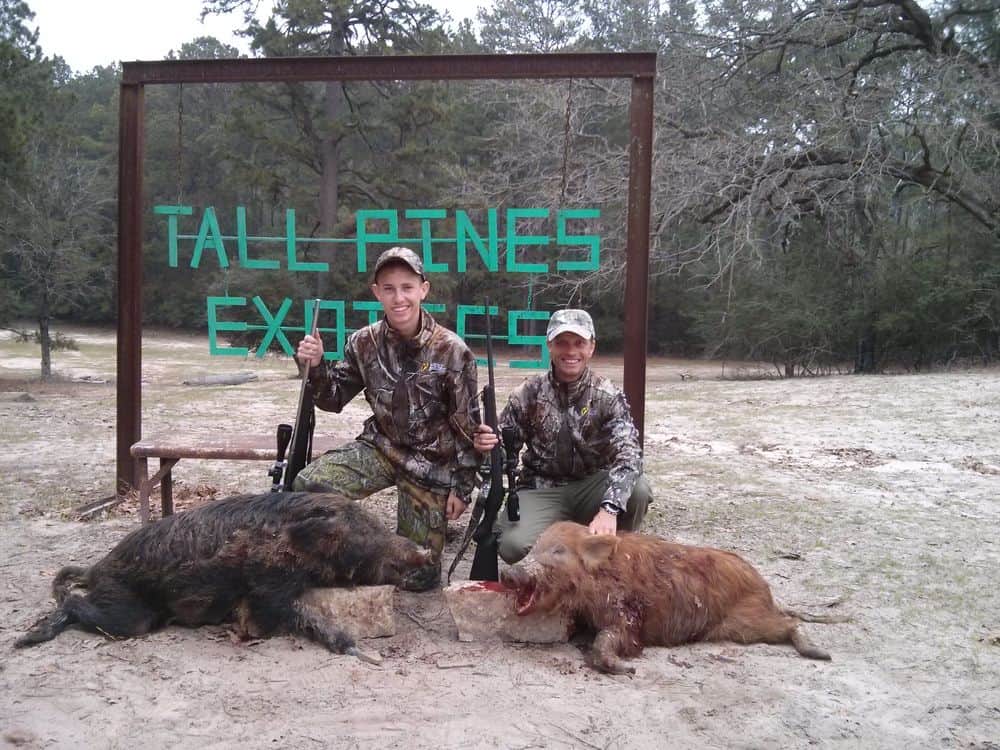 "Brandon, Alycia and Mike Burks" August 18, 2013
"I want to thank all of you for making our hunt the success that it was. I couldnt imagine going any other place. Your hospitality and cooking made us feel at home. I feel like I owe you. Driving down to your place all I heard was " are we there yet ?", on the way home it was " when are we going back ?". We look forward to returning...Thanks again"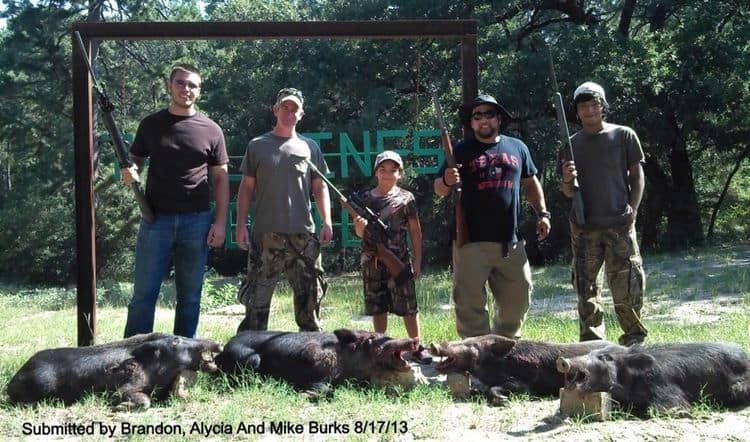 "Michael" December 15, 2010

"Sheri and Keith:
I wanted to write and thank you all for the nice hunt we had last month. You all made it very pleasant....
Thanks"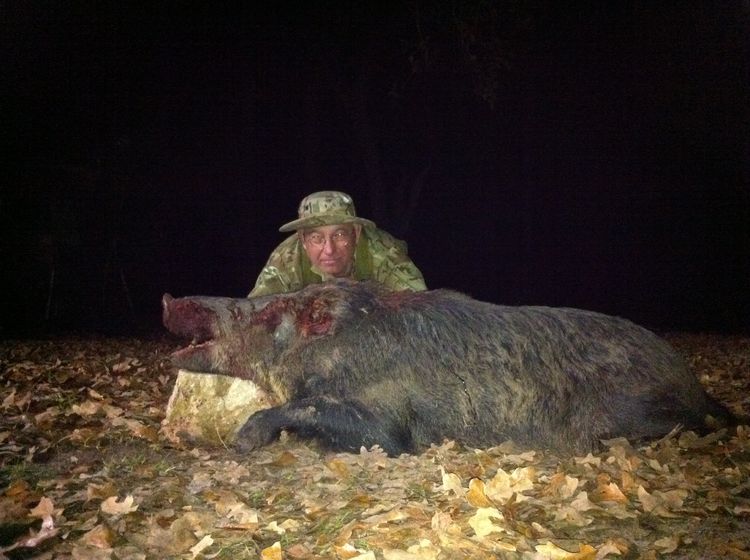 "Dustin Storms" December 10, 2010
"Howdy!

I just wanted to drop you a line and say thank you very much for everything y'all did for my dad and I. He said it was the greatest birthday he's had yet. It was great getting to experience an amazing hunt with him. We never had much time to go hunting together when I was younger due to the obligations and schedules of the typical American family. You truly have a top-notch operation and we thoroughly enjoyed everything there. I've attached a few pics for y'all and you're free to use them on your site if you wish. Have a great day and we'll definitely be seein' ya in 2011."




"Spike W." January 23, 2010
"Just finished a hunt at Tall Pines and really enjoyed the experience. Yvonne and Kyle took real good care of us. Kyle is a hard working professional. Yvonne was the perfect hostess. The food and facilities were excellent. I hope to return in the future. Thanks for everything."